Home


Restoration


Jewelry


Textile Accessories


Ottomans and Pillows


Calendar


Etsy Shop
---
Kathryn T. Van Sciver
(317) 726-0811
Indianapolis, IN, USA

kathryn@textilian.com
Welcome to Textilian and Ottoman Empire.
We hope that you will find something in our services and products to intrigue you.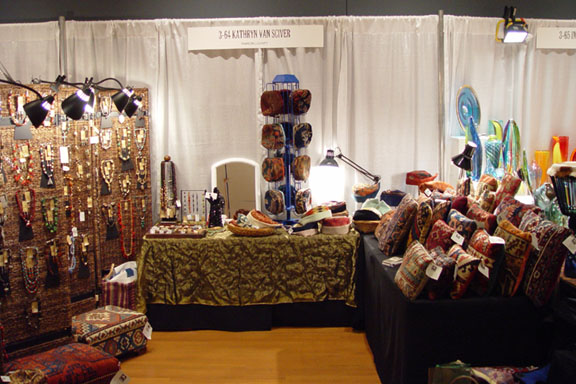 Services available from Textilian:

Oriental rug restoration
Textile mounting

Services and features of Ottoman Empire products:

Oriental rug pillow production
Fur, quilt and other textile pillow production
Oriental rug upholstery of ottomans
Hats, handbags, and accessories made from Oriental rugs, furs, and textiles
Scarves from lightweight silk, rayon and other textiles
Textiles used are antique, vintage and contemporary
Most textile items incorporate recycled materials
Jewelry from semiprecious stones, vintage glass, and sterling

We would be happy to discuss custom work with you. Please call (317) 726-0811 or email kathryn@textilian.com.

---

Kathryn T. Van Sciver has restored textiles and art objects for more than 35 years. In addition, she transforms otherwise unusable textiles into new objects such as ottomans, pillows, hats and handbags. More recently she has included jewelry in her offerings. Kathryn attended the University of Pennsylvania where she earned a Bachelors of Arts in Communications. She then studied at the Pennsylvania Academy of the Fine Arts and was awarded a Certificate in Painting.